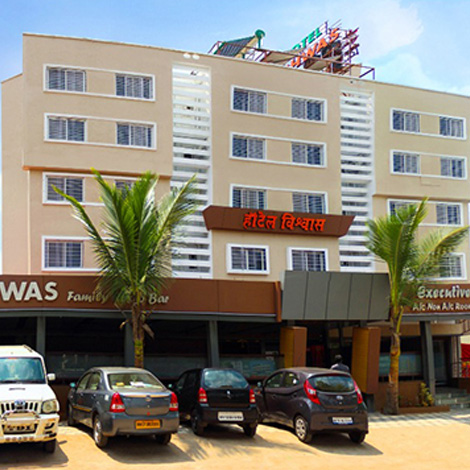 OUR HOTEL STORY
A place where your comfort is put first.
Hotel Vishwas provides you with a comfortable stay with best in class amenities. The rooms are specially designed for a worry-free stay. Enjoy cosy stay facilities, in house restaurant, party hall and many more amazing services. Your safety is very important to us that is why the hotel is sanitized till the very last spot. Located Near Pune Bangalore Highway makes us an ideal location for your stay.
We know that in the service industry we have keep up with the pace world demands and that is why we at Hotel Vishwas makes sure that you experience the finest service by a hardworking and well experienced staff. you will find our staff to be prompt and attentive, thoughtful and eager to please – continuing to deliver the excellent service that Vishwas group is known for.
Vishwas Group Mr Pokale
A Perfect Destination for Your Celebration
Mr. Balasaheb Shivajirao Pokale – An Astonishing Entrepreneur, successful businessman, pioneer of 'Vishwas Group' has a experience of 20+ years in the hospitality industry.
Today's young generation has a lot of ambitions but they want all kind of fortune with fewer efforts & time. There are very few people in the world who really have courage, passion to follow their dreams and do something for society.
Mr. Pokale is one of those people who did hard work not just to gain success and prosperity but also laid an inspiring example for today's young generation who are seeking for their careers. with reference to Kollin Powel, One liner, which explains Mr. Pokale, is "A dream doesn't become reality through magic; it takes sweat, determination, and hard work".
Suhasini Mangal Karyalaya, Vadgaon Dhayari.
Hotel Vishwas, Mumbai Bangalore Highway, Vadgaon Bk.
Hotel Nandanvan, Market Yard, Pune.
Vishwas Construction, Vadgaon Dhayari.
Vishwas Associates, Vadgaon Dhayari
P.N. K. Developers, Vadgaon Dhayari.
Solanki – Pokale Associates, Narhe Vadgaon.
Datar – Pokale Associates, Anandnagar Vithalwadi.
Niyojit Vishwas Resort, Lavasa Mulshi.
Experience
A Perfect Destination for Your Celebration
We got an opportunity to get insights about 'Vishwas Group'. During our discussions, He shared his 25 years journey with us and numerous tough situations he tackled to reach this level.
His father was a government servant. During those days, it was difficult to manage family expenses. In such critical conditions, he managed to complete his diploma in civil engineering and started his own business. He tried multiple businesses and learned from his mistakes and bad experiences. He never lost by heart and kept on following his passion with true efforts.
Today he is a very well known Entrepreneur in Pune and has businesses in different sectors like Real Estate, Hotel & Hospitality Industry, (Marriage Hall, Marriage Lawns), Resorts. He devoted himself to work with soul and gained the people's respect. If we pick any of his customers and asked about reviews, they always praised about him and his work.
He said, if you want to gain customer's trust, give him respect and fulfill his requirements. If he finds a value of given money, he will always be happy with given services and will surely approach you again and again.
He never went out for any publicity stunts, Never wasted money on advertisement to exaggerate his Products. He kept on succeeding with mouth publicity and the trust he built among customers. He finds pride in customer's satisfaction rather than profits.
With his honesty and hard work, he made such a fortune. He always gave importance to implementation as per the commitments.
His journey from 'Grocery Store Owner' to 'Chairman of 'Vishwas Group' made him an Ideal to many young minds.
OUR SERVICES
A place where your comfort is put first.
I had a great stay. In fact, I have accommodated all my family members in this hotel during my marriage. Excellent service and superb bed tea in the morning. If you have your marriage or anyone's marriage in shauryashree lawns this is probably the best and the nearest hotel to stay in.
Amit Simant
Amazing hotel with good room service even at late night. It is very near to Bombay Bangalore highway. Also a very good view from the terrace.
Jayesh Ahire
Best Highway Hotel near the city. All areas of Pune city are easily accessible. One of the main points for Mumbai - Bangalore Traffic. Well Maintained Rooms with a good restaurant
Vinod Singh Rajpurohit
Hotel Vishwas I a good restaurant with proper food quality and quantity with pocket-friendly rates. I loved it!
Atharva Chitale